Natural Brow Shaping, Brow Lamination and Henna Brows in Hatboro/Warminster pa
I'm a Natural Brow Expert and Licensed Esthetician.
I will not overly arched, dramatic, or heavily drawn on eyebrows. I keep your brows full and natural because, after all, that's the way nature intended.
I have over 1 year experience designing and studying the natural brow. Evelyn was trained by World Of Microblading in 1/2018, Nicck Townsend in 11/2018,  Regina Brows 12/2018 Brow Code 2/13/2019 and Kelly Baker Brows 4/19/2019 and receive her certification thru them.
I don't use generic mapping tools like stencils, or sticks to "lineup here to determine where your Brow starts and ends". I truly customized brow that relates specifically TO YOUR BROWS.
Want to grow out your brow from all the over waxing and tweezing? Schedule your 45-55 minute first time client appointment in my studio located in Willow Grove so we can get you on your way to beautiful brows. 
Location
271 E. Countyline Rd, Warminster PA 19040
---
Hands on Brow Training With Nicck Townsend. YES. I WAS NERVOUS!
Private 1 on 1 with Nicck Townsend Salon

Posted by Nicck Townsend on Tuesday, November 6, 2018
Brow Lamination
What is Brow Lamination?
It follows a similar concept to a lash lift. The same way you would apply a solution to your lash hairs to keep them standing upright for a certain period of weeks--essentially, you're straightening your brow hairs in one direction with a chemical solution. This gives you the look of symmetry, fullness, and definition.
Who is Brow Lamination For?
Brow Lamination is most suitable for clients struggling with incorrect eyebrow shape, improper growth of hairs, or difficulty grooming/styling their brows.
The effect of fuller, thicker brows works best with a set of already thick and unruly brows. Essentially, you can groom them and arrange the hairs into place with the formula.
Brow Lamination doesn't make your brows thicker, it gives the illusion of thicker, fuller, bolder brows. In general, Brow Lamination results tend to be bold and extreme, so they are not recommended for someone looking for a subtle result.
Brow Lamination provides your clients with a semi-permanent solution that is designed to open up your eyes using a gentle, chemical solution that can last up to 8 weeks depending on the brow.
Brow Shaping Only
$35
Brow Shaping includes waxing, tweezing, and pencil or powder fill with Kelly Baker Products.
Brow Shaping with Henna Tinting
$50
Brow Shaping with tinting includes, waxing, tinting tweezing and education on filling your brows with Kelly Baker Brows Products.
Brow Lamination
$120 Full Brow/ Half Brow $60
Brow Shaping with Brow Lamination includes waxing & tweezing.

Great for people with curly & unruly brows.

Ditch the brow gel and pomade.

Shape to hide missing hair and bald spots.

Its just like lash lift but for the brows. Infuses the hair with keratin for a smoother, thicker and tamed that last 4-8 weeks.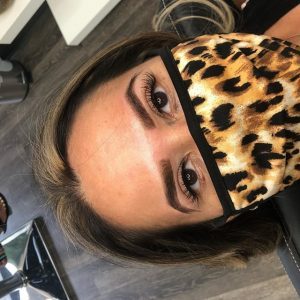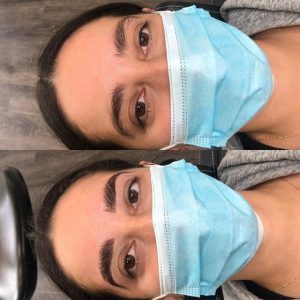 Henna Maintenace
$40
Monthly Henna Maintenance.
Video not specified. Please select one to display.