DUE TO BUSY SEASON. WE ARE CURRENTLY ONLY OFFERING SATURDAY PRIVATE TRAINING. PLEASE BOOK 2 WEEKS IN ADVANCE SO WE CAN GATHER THE MODELS FOR YOUR TRAINING. THANK YOU. EVELYN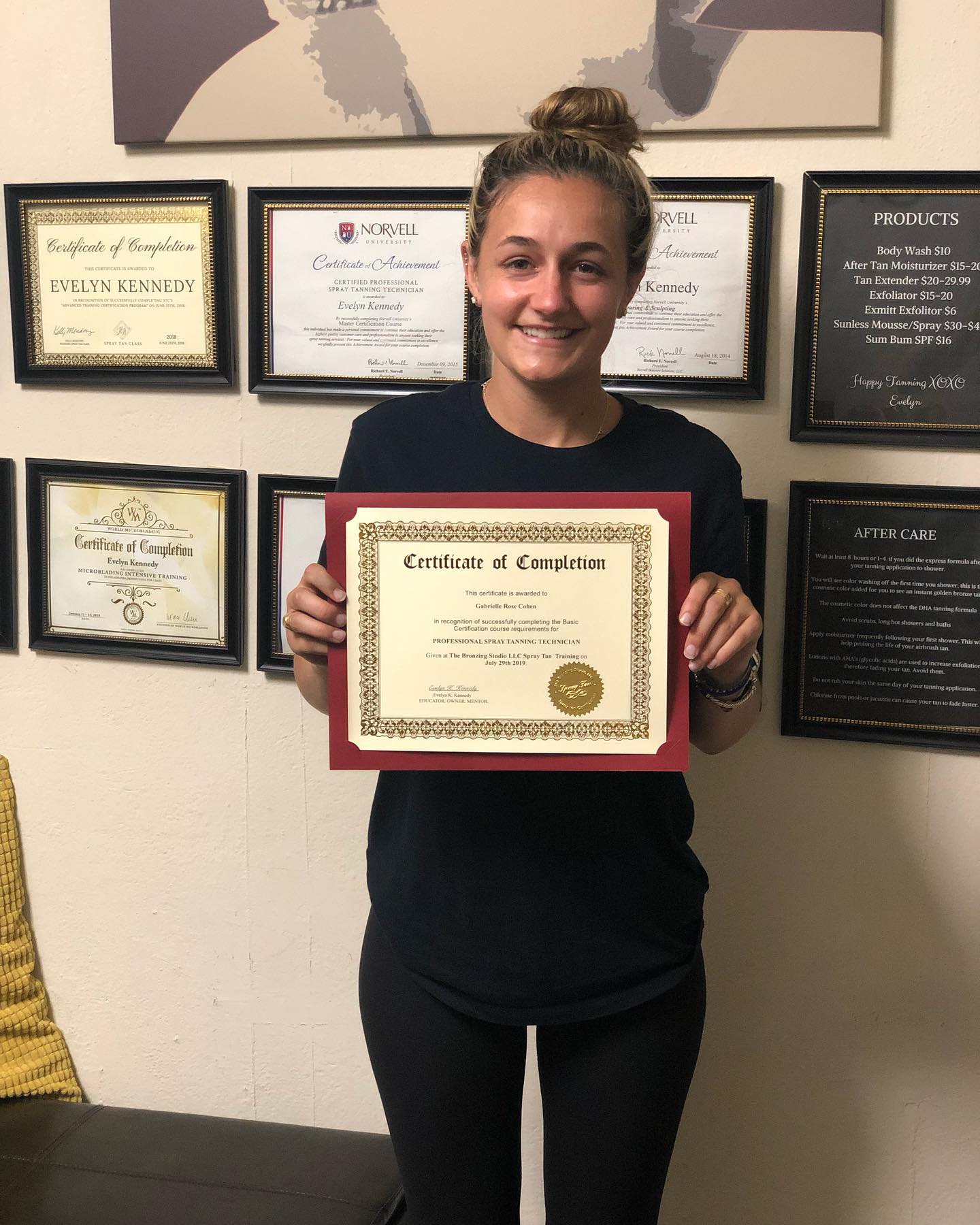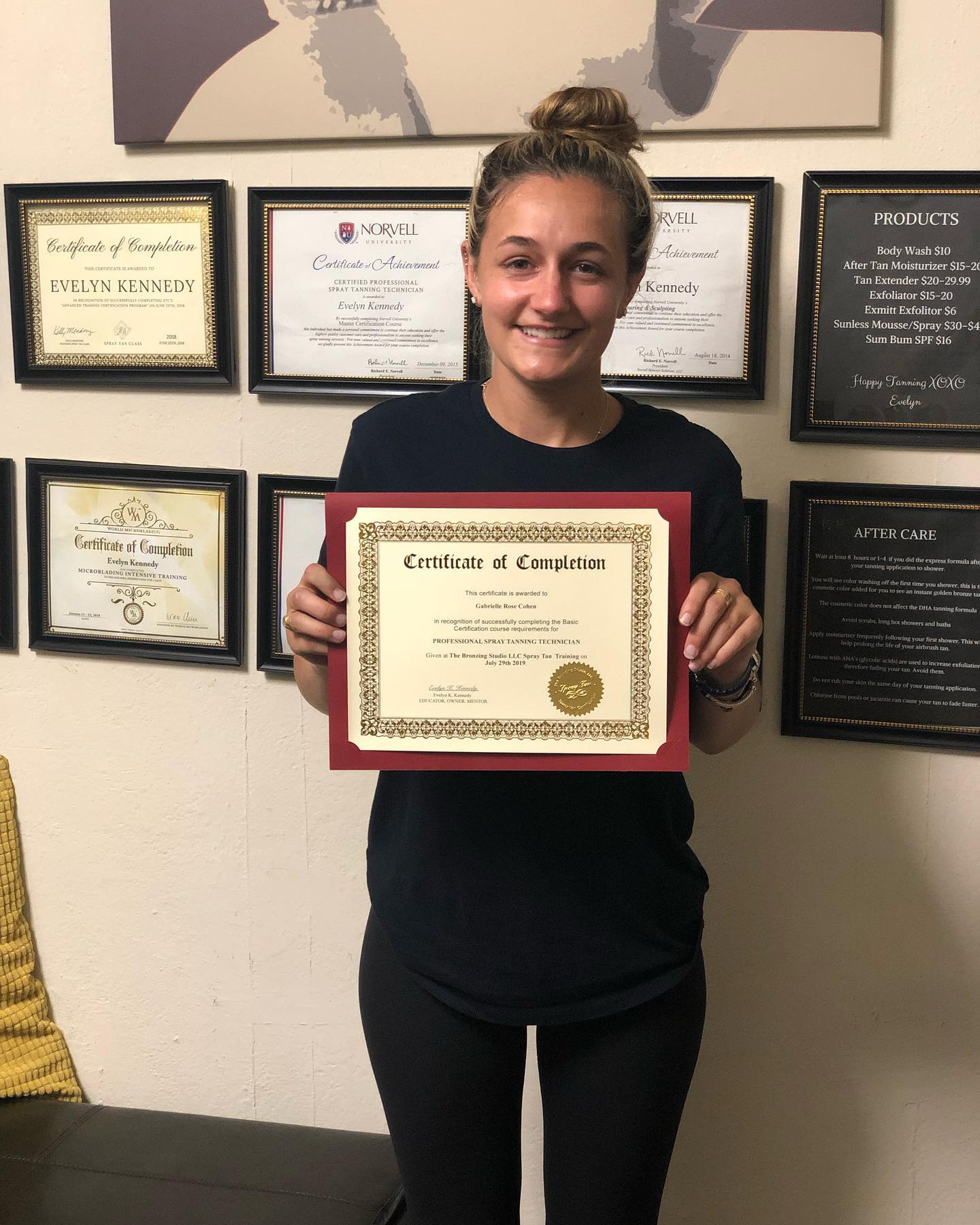 Philadelphia & Bucks County Spray Tan Training
The Bronzing Studio
Private Spray Tan Training Workshops.
Why and how to pick a spray tan trainer?
When picking a spray tan trainer I always recommend using someone who has more than 5 plus years of expertise. Many people with less then 1 year are calling themselves master tech's and educators with out knowing how to run a business and tan as a hobby.
Evelyn has been tanning since 2013 and has completed many yearly training and certificates herself. Evelyn is trained by Norvell as a Master Tech in 2015, Perfect Glow, Spray Tan Class and more. All her Certificate are hung at her location.
Evelyn does not copy from other training materials and is not biased on products and solutions that are out on the market. Everything you will learn with Evelyn will help avoid any issues you will have in the sunless business.
Tip: research your future trainer before investing in your education. Learn from real business owner with many years of experience.
When is the next hands on training?
Pay your deposit and book your training any day. Each Training is a 4-5 hour class will host 2 students maximum. They will be offer at our salon location in Warminster/Hatboro PA. Classes will be full day where we will cover all material about spray tan in the late morning and in the afternoon will be hands on spray tanning real bodies and we will be sharing all the techniques to make this a profitable business for you.
$699 For Private One on One.
this price does not include equipment. Equipment which can start from $329 and up depending on company.
We will also be there for you after the training is done as you will enjoy a 1 month of one-on-one consultation via phone or email after your training to help with any additional questions that may happen.
You will also receive a Certificate of Completion from The Bronzing Studio Spray Tan Academy.
Register today!!!
What Will I Learn in This Class?
You're going to learn how to become a spray tan Artist!! This class will give you the tools you need to conquer any spray tan situations you might come across as a business owner. This class is completely hands-on, expect about 60-75 minutes of basic spray theory.  After you've finalized your payment, I will forward your appointment for your training.  This will be hands-on practice on 2-6 models!  We're here to learn how to give awesome handheld spray tans, so the more we can practice the more confident you will be!! At the End of your training you will receive a certificate of completion!
Who Is This Class For?
Anyone that want to add spray tanning to their current business, Providing tanning salon owners and operators valuable training and certification, just to refreshing your skills, those that are terrified of spray tanning or have never done one, and anyone!   Please be prepared to be sprayed, sprayed by another student, and a model.
Wait, I Have To Get Naked?
NO!, Please bring a bathing suit with you to class!!
What If I Cant Be Spray Tan??
If for some reason you cannot be spray due to medical condition, please let us know at least one week prior to the class so we can arrange for an extra model to be present.
What Kind of Solution Will We Be Training With?
You will learn with Eco-Cert organic solution containing naturally derived ingredients, cert.organic DHA, certified vegan, nut free and paraben free. We don't train with only one solution.
How Many Students Per Class?
We train only 1-2 students per class.
What Is The Cost?
The cost of the training is $699.  50% Deposit is required to hold your spot.
What Forms of Payment Do You Accept?
We accept payments thru PayPal or . Payment plans are also available.
I Need To Take This Class, Whats Next?
Please email me the dates that works best for you.  50% Deposit is required to hold your spot.  Attend the class on your selected date, and receive a certificate of completion at the end of your training!
BEGINNERS CERTIFICATION SPRAY TAN COURSE
Spray Tan Beginner's Manual
1-on-1 Training with Evelyn Kennedy
Unbiased Reviews on Solutions, Equipment, etc.
Hands-on Experience w/ Multiple Body Types ( between 2-6 models )
Customized Training w/ Trouble Areas
Printed Certificate
Access to Full Manual
Legal Forms
Client Forms
1 Month Mentoring Via e-Mail + Text
*Serving Bucks County & Philadelphia Area, Beauty Schools, Salons, Lash Technician etc…..
Terms-Conditions
Spray Tan Training
(A SUBSIDIARY OF THE BRONZING STUDIO LLC )
TERMS & CONDITIONS
The training courses found on this site are for informational purposes only. It is not a cosmetology program or an extension of your education.
Training courses on this site should not be considered as medical advice or representation and is not to be taken as such in any shape or form. The Bronzing Studio LLC does not guarantee that all the information found in this site is completely safe for all the users. You agree to hold that The Bronzing Studio is not liable to any direct, consequential, or other damages that may result from actions from the training courses offered.
The courses that are available on this site are just for further information and assistance for your future business plans based on the knowledge and experience of the trainer(s) of The Bronzing Studio LLC.The Bronzing Studio LLC  does not guarantee that you will earn from this training courses. Also, Bronze Anytime does not render any legal, accounting or other professional services to the users.
No Redistribution Policy
This training/certification program is for your personal use only. All course manuals are private and confidential thus it is not to be shared to other individuals or companies. If that should occur your access will be withdrawn, you will not be refunded and legal action may take place. The course materials in this site may not be sold or redistributed without proper consent or permission fromThe Bronzing Studio LLC.
Refunds
By submitting payment for this non-refundable training program/certification you agree to the terms of this agreement. Deposits are non-refundable and non-transferable. Terms and Conditions use forThe Bronzing Studio LLC. Courses are non-transferable.
Copyright Information
The entire contents of the site (including but not limited to all information, software, text, displays, images, video and audio, and the design, selection and arrangement thereof), except those from third party links are owned byThe Bronzing Studio LLC. Other providers of such material and are protected by United States and international copyright, trademark, patent, trade secret and other intellectual property or proprietary rights laws. You must not reproduce, modify any of the site's or training content except as generally permitted by the site or training manual. Any form of modification, hacking and breaching of the website or training manual is under United States and international copyright laws.
Certain materials, names and logos among others in this Site or Services constitute trademarks ofThe Bronzing Studio LLC. You are not authorized to use these materials, names and logos in any form. It is only upon the strict permission of the Bronze Anytime that you can be able to use these trademarks.
Information Accuracy
We do not guarantee, represent or warrant that your use of our service will be uninterrupted, timely, secure or error-free. We do not warrant that the information you obtained from the use of the service will be accurate or reliable. Reliance on information provided on this site is solely at your own risk. We will not be liable to any special or consequential damage incurred to you by using this site. In cases you find inaccuracies you can report it to us via our email address (thebronzingstudio52@gmail.com).
Third Party Links
Some of this websites and training contents which include hyperlinks or advertisements might come from third parties. The placement of these contents does not directly mean that we promote or own these sites. These links are for further information and reference purposes only. The Company does not operate this site and is not responsible for their content.
Governing Authorities
These Terms & Conditions, the use of the site and other training courses conducted on the site are governed and enforced under the laws and regulations of Pennsylvania . The restricted jurisdiction and venue for any legal proceedings relating to this Terms & Conditions will be the federal courts of Pennsylvania.
Sever-ability
The invalidity or un enforceability of any of the terms of this Terms & Conditions shall not affect the validity or enforceability of any other term or condition. If possible, any unenforceable term within this Agreement will be modified to reflect the parties' original intention.
Entire Agreement
These Terms & Conditions constitute the entire agreement between YOU andThe Bronzing Studio LLC in relation to your subscription to our services. No additional provisions are expressed nor implied. This Terms & Conditions supersedes any all previous oral and/or written, express and/or implied agreements. By submitting payment you are acknowledging that you HAVE READ AND FULLY UNDERSTOOD THIS AGREEMENT and ACCEPTS ALL TERMS, CONDITIONS, COVENANTS AND RESTRICTIONS, and WITHOUT EXCEPTION.
Legal & Customer Support
For any concerns relating to the use of this Site and its Services you can contact our Customer Support at these numbers (215) 360-3483 or visit our main office at 271 E. Countyline Rd Hatboro PA 19090.
If you have any questions, please do not hesitate to email thebronzingstudio52@gmail.comPhiladelphia & Bucks County Spray Tan Training